A Pregnancy Photoshoot Gives Precious Lifelong Memories
A pregnancy photoshoot should form part of every family photo album.  After all, in the modern world, most women are only pregnant once or twice in their lifetime.  Of course, you should take maternity photos yourself, but every pregnancy deserves a professional maternity shoot.
You will look back on your beautiful baby bump photos for the rest of your life and they will give you endless pleasure as you share your photos with your growing child. Maternity photoshoot pictures are very special, but they don't need to cost the earth.
Maternity Photo Shoot
I have been providing maternity photoshoots at women's homes for many years.  That way there is no travel involved, something that can be a huge bonus if morning or travel sickness is an issue.  I believe that cute maternity photoshoot ideas tend to work better at home than in a sterile, and sometimes cold studio environment.
Being comfortable results in much better maternity photoshoot pictures.  Some women choose to be photographed on a number of occasions as their pregnancy develops and their baby bump grows.  That way they build a collection of maternity photoshoot pictures that track the baby's growth in the womb.
Maternity Photo Ideas
Let's deal with the elephant in the room.  Many women avoid maternity photos because they feel fat, and sometimes unattractive. Any decent maternity photographer understands this and can ensure that pregnancy photoshoot poses are flattering and beautiful.
I take a huge amount of inspiration from Mary Ann Halpin's beautiful book of maternity photoshoot pictures, "Pregnant Goddesshood."  Another source of maternity shoot inspiration is Australian photographer Anne Geddes who produces both pregnancy and baby photographs that are stunningly beautiful.
Geddes often uses symbolism in her work, adding other beautiful elements of nature, buds, seeds, tiny birds eggs, cocoons, bulbs, and fruits to illustrate the wondrous cycle of life that is pregnancy.
If you are still stuck for pregnancy reveal photoshoot ideas check out Ana Koska photography who also produces beautiful outdoor maternity images.
Get Your Children And Partner Involved In Your Maternity Shoot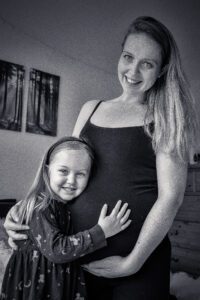 Any pregnancy is an exciting time for the whole family.  If you have younger children it is always a good idea to get them involved in your photoshoot.  This is another reason why it's a good idea to do your maternity photo shoot in your home.
Younger children are easily bored in a photo studio.  If the shoot is in your home they can be amusing themselves until they are needed.
It's probably fair to say that dads are often forgotten when it comes to a pregnancy photoshoot session so it's always a good idea to get them involved, even if it's only for an image or two.  If dad is confident and enjoys being photographed, a couples maternity shoot can result in some truly memorable photos.
That said, your maternity photoshoot will always be about you and I will try to ensure that your photos reflect your personality.  Some mums-to-be are full of funny pregnancy photoshoot ideas, others want picture-perfect maternity photoshoot dresses and gowns. It is totally your decision, and we can work together to ensure that your pictures are exactly what you want.
Frequently Asked Questions (FAQ)
What is a pregnant photoshoot called?
Terminology varies from person to person. The terms "pregnancy photoshoot" and "maternity photoshoot" mean pretty much the same thing and are interchangeable.
When should you do a pregnancy photo shoot?
Some women like to do a maternity photoshoot every month after the baby bump becomes noticeable, in most cases at around 5-months. Most people would agree that around the 32nd week of pregnancy is the best time.
By that stage, any morning sickness has passed and mum's skin and hair are in great condition and mum is positively glowing. The baby bump is very pronounced but still fairly comfortable as the baby's head hasn't engaged in the pelvis ready for delivery
How much does a pregnancy photoshoot cost?
Not as much as you would think. My charges start at £250 which includes a two-hour photo session and 6 fully retouched digital images. There are extra costs for prints or elaborate sets.
Where Can I Find Maternity Photoshoot Dresses And Gowns?
Is a pregnancy photoshoot worth it?
Yes! In my opinion, it is one of the best investments you will ever make.  I would always advise booking a "mum and baby" photoshoot session a few weeks after the baby arrives.
The best time to photograph newborns is when they are around two weeks old.  At that age, babies are very cooperative because they sleep around 18-hours a day and they still curl up like they are in the womb.  If you wish to book a maternity shoot and a newborn shoot please get in touch to discuss your requirements in detail.  I offer a great deal on a joint package.
I consider it a privilege to capture beautiful maternity images and to help you to create memories that you will treasure for a lifetime.
You can view more of my pregnancy and family-related photography if you look at my
commissioned work
and personal projects on the main menu.
Please note that Alan Ewart Photography is LGBTQI+ friendly and a Trans safe space.