About Alan Ewart MA Commercial Photography (AUB)
Hi, thanks for finding out more about Alan Ewart Photography now based in Toward, Dunoon Argyll and Bute. I specialise in commercial, documentary, portrait, and fantasy photography.
I don't claim to be the only photographer in Dunoon or on the Cowal Peninsula.  Nor do I claim to be the cheapest photographer in Argyll and Bute.  However, I do offer a professional service that is 100% geared to meet the needs of those who trust me to create their memories.
A photoshoot should always be about the subject and when people are the subject the photoshoot should be an enjoyable experience.
My Background As A Photographer
I have taken photographs for many years but turned professional in 2011 after I retired from the police service.  My initial move into the world of photography was in the music industry.  This gave me the chance to photograph some of the world's best-known artists. I have had the opportunity to photograph artists as varied as Sir Tom Jones, Johnny Rotten, Jamie Cullum, and Motorhead. 
 I have covered most of the UK's music festivals, including Glastonbury, Download, Reading, and Bestival.  Whilst I enjoy the huge festivals my heart lies in the grassroots music scene.  Promoting unsigned artists has been central to much of my work.  I am currently working on a  project focusing on grassroots music.  This sector is the beating heart of the UK music scene but is often underrepresented. I hope to change that.
My work often features in the music press in print and online.  
I also photograph sports events, especially Boxing and Mixed Martial Arts.
I returned to university In 2018 and graduated with a Masters's Degree in Commercial Photography from Arts University Bournemouth.  Through my studies, I developed a love of documentary and street photography.  My work is inspired by photographers like Martin Parr, Latoya Ruby Jackson, Sir Don McCullin, and Nick Waplington.   As a result, two recent documentary projects "With Your Milk Mother" and "Regarding Family" have been published and exhibited.
My work is people-focused because I have a passion for portraiture.  Images of people allow me to express my creativity because I use photographs to create art.
Fantasy Art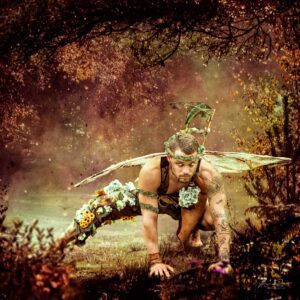 I have many years of experience with Adobe Photoshop. I love to create digital art with a painterly feel because it makes amazing wall art printed on aluminum. You should definitely check out my gallery and online store.
A dedicated photoshoot is preferable, but I can create fantasy art from something as simple as a mobile phone snap.  You will always receive a professional and friendly service. 
Now in Dunoon, Argyll and Bute Scotland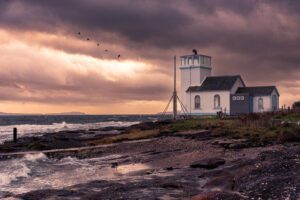 During the summer of 2021, my wife and I finally achieved our ambition of relocating from Dorset to Scotland.  Armed with a map of Scotland we spent some time touring Argyll in Daisy, our now ancient camper van.  After searching from Dunoon to Campbeltown, from Lochgilphead to Oban, we finally added to the population of Dunoon Argyll when we found our forever home in Toward. 
Is Dunoon worth visiting?
Living in this undiscovered part of Scotland has been a dream come true.  An added bonus is that we are now close to my wife's family and all of our Scottish friends.  We may be a few miles away from the Dunoon shops, but having the Firth of Clyde on our doorstep and the hills behind us, more than compensates for that minor inconvenience.
I highly recommend visiting Dunoon Argyll and the surrounding area.  It's on the doorstep of Scotland's Secret coast and well worth a visit.  There are lots of things to do.  Perhaps a visit to Dunoon castle, Puck's Glen, or Benmore Gardens.