How Do You Choose The Best Camera in Spring 2022?
You are a new photographer searching for the best camera to allow you to get out to take some photographs in the beautiful spring weather.  The problem is there are so many cameras, every major brand seems to have 50 different models, so it is very confusing.
Searching on the internet doesn't help much because every site seems to have a different view of what the best camera for beginners is. Fear not, if you consider the 10 tips we have for you it will help you to avoid what could be a very expensive mistake.
Could A Second-Hand Camera Be The Best Camera For You?
The short answer is yes! A pre-loved camera might well be the best camera for a new photographer.  If you haven't already,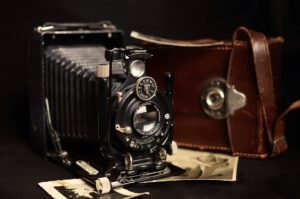 pop over to our article on how to start photography on a budget.  It really is worth considering second-hand photography gear at present.
It's actually a good time to buy second-hand because stocks are high as many photographers are trading in their used cameras and switching to the newer mirrorless cameras. Reseller sights like MPB and London Camera Exchange have plenty of quality gear for sale at great prices.
The one thing that is best avoided in the second-hand camera market at present is vintage cameras like this beautiful old Voightlander.  These are in a specialist market, prices can be high and the camera may well need a considerable amount of restoration.
Which brand camera is best?
This just may be the question that causes the biggest arguments in the camera world.  The two biggest traditional brands, Canon and Nikon, both have their devotees, and those people will argue that their brand is superior until they are blue in the face.
In recent years, Fuji and Sony stole a march in the mirrorless camera market and aficionados of those brands are equally convinced that their brand rules the roost.  Frankly, new photographers are best served by steering clear of these "my brand makes the best camera" arguments.
New photographers should absolutely not ignore camera brands like Panasonic or Olympus, both of whom make great cameras for beginners and the more experienced alike.  My view is simple, any brand name camera released in the last 10-years is worthy of your consideration.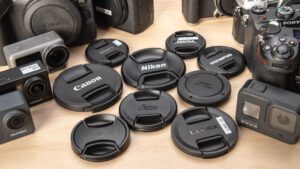 One thing that is definitely worth considering when you are buying a digital camera is the type of sensor that the camera is fitted with.  Perhaps ironically, most of Nikon's recent cameras use Sony sensors.  It is estimated that 50% of all digital cameras are now fitted with Sony sensors.
A discussion of the merits of sensors is beyond the scope of this article but you can read about them in-depth in this article. I will restrict myself to mentioning that sensors come in two main formats.  Full frame sensors basically offer the same field of view as 35mm film.
Most entry-level cameras from the major manufacturers feature cropped sensors that are smaller than full-frame sensors.  There are advantages and disadvantages to cropped sensors but again that is a discussion for another time.  For now, I will simply say that most professional photographers use full-frame cameras.
Many new photographers will buy a point-and-shoot camera as their first camera, might that be a good choice for you?  Here are some of the advantages and disadvantages.
What is the best point-and-shoot camera?
I have a point-and-shoot camera.  They are great.  Mine happens to be a Sony Cybershot, you can buy one from Amazon for a little over £100.  It slips into my pocket when I am out walking the dogs and I don't even notice the weight, in fact, it doesn't weigh much more than my iPhone. It offers a 20-megapixel sensor and a 26 – 130mm zoom lens.
That specification isn't far off what my Nikon D750 camera (25-megapixel) and my favorite 24 – 120mm lens offer, and they weigh about one-tenth of that combination.  So why don't I use it all the time?  The answer takes me to the disadvantages of the point-and-shoot camera, the biggest of which is sensor size.
Disadvantages of point and shoot cameras
The sensors in point-and-shoot cameras are tiny and that means a lot of pixels crammed into a very small space.  In turn, that means that printing photographs from a point and shoot camera means nothing much larger than 10″ by 8."  By comparison, I frequently print images from my Nikon D750 at A0 size 47″ by 33″ and I could easily go bigger.
Perhaps the biggest disadvantage of the point-and-shoot camera is its lack of versatility.  There is no way to change lenses for the most appropriate in a given situation.  You are stuck with what you have.  Many such cameras offer a digital zoom ability but this means you are using a tiny part of an already small sensor.  This seriously degrades image quality.
Point And Shoot Camera Advantages
Point-and-shoot cameras are really easy to use.  With a bit of practice, you will get really nice photographs for your website and social media, and let's face it, that's where a lot of our photos end up.  They are cheap and are a great camera for travel photography, and they do have better sensors than even the best smartphones.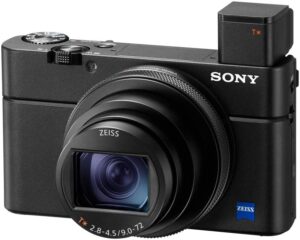 You can pay a lot of money for more upmarket point-and-shoot cameras.  A Sony RX100 Mk Vii comes in at a hefty £950, more expensive than an entry-level DSLR with a decent lens.  However, if you want convenience combined with ease of use, a point-and-shoot camera may just be the best camera for you.
You will find that most point-and-shoot cameras have lots of pre-programmed shoot modes.  For example, you will get presets for portrait photography, landscapes, and even night photography.  This can certainly shorten the learning curve for new photographers.
If you want to find the best point and shoot camera I advise visiting a camera store and handling a few to find out which one is most comfortable for you.  The best camera for a new photographer is the one that feels right in their hands.
If you feel a compact point-and-shoot camera might be for you the following table indicates the entry point for each of the major brands.  As you can see not all compact cameras are created equal, and the price of some may make the eyes of new photographers water.
Compact Cameras
Manufacturer
Model
Features
Price point

Sony
Cyber-Shot WX350
20x optical zoom lens
18.2 megapixel resolution
Wi-Fi and NFC connectivity
£169
Panasonic
LUMIX DMC-TZ70
30x optical zoom
12-megapixels
Full HD video
Built-in Wi-Fi
£219
Canon
PowerShot SX620
25x optical zoom
20.2-megapixel
Wi-Fi connectivity
Full HD video

£229
Nikon
Coolpix B500
40x optical zoom
16-megapixel
3.0" tilting LCD monitor
£239
Olympus
Tough TG-6
4x optical zoom
12-megapixel sensor
4K video
Built in Wifi

£369
Fujifilm
X100F
26.1 megapixel sensor
Fixed 23mm lens
4K video
Bluetooth and Wi-Fi
tilting LCD touch screen
£1299
Leica
V-LUX 5
16x Zoom Lens
20.1-megapixel sensor
4k video
Bluetooth and WiFi
£1050
Lecia
Q2
Fixed 28mm lens
47.3 MP full-frame sensor
HD video at up to 120fps


£4500
Which is The Best Digital Camera (SLR)?
I think that the best advice anyone can offer to help a new photographer to select the best camera for them is this.  Begin by thinking seriously about how you intend to use your camera.  Avoid considering specifications as reasons to buy a camera.  Instead, you should set a budget and then research what you can afford, remembering to factor in the cost of a lens and memory cards.
There simply isn't a "best camera for photography," only what may be the best camera for you.  That means the best that you can afford within your budget, the best camera for personal use.  If you have a specialist need, for example, night photography, then the specifications might become a little more important.
For night photography the best camera is one that can handle a high ISO without introducing an unacceptable level of unsightly digital noise.  Besides those specialist uses you will find that any camera released in the past 5 – 10 years by any major manufacturer is suitable for the needs of the vast majority of new photographers.  In my view, your budget should be the guiding factor.
What is the best camera for under £500?
If you absolutely must have a new camera and your budget is £500 you will be severely limited in your choices.  Of the major manufacturers, you will find some entry-level models in this price range especially if you shop around.  Remember that in an ideal world you will want to look for a sub-£500 camera that includes a kit lens.  Typically kit lenses are not great quality, but they will get you started.
From Nikon, you should be able to find the D3500 at around £450 including a kit lens.  This is a good entry-level camera featuring a 24.2-megapixel cropped sensor and an 18 – 55mm kit lens.  It also offers Bluetooth connectivity and full HD video recording.
The Best Sub £500 Canon Camera
The Canon 2000D is equally well specified, it offers a 24.1-megapixel sensor, and the Canon EF-S 18-55mm f3.5-5.6 IS II kit lens.  You should be able to find one for around £500 with a bit of shopping around.  This model performs well in low-light situations if that is a consideration for you.
Of the other major brands, the Panasonic Lumix DMC-GX80 offers a 16-megapixel sensor, Wi-fi connectivity, and a tilt screen at around £450.  Finally, Sony offers the A6000 with its 24.3-megapixel sensor and a 16-50 mm power zoom lens at just under the £500 price point.
If you are looking for the best camera for video in a sub-£500 camera all of these cameras offer very decent video performance in this price range.
What Is The Best Camera for Under £1000?
If you are looking for the best camera for personal use in the sub-£1000 bracket you will find a much wider range of options. I will start with Nikon Cameras in this price range because we can offer thoughts on some cameras we've tested ourselves.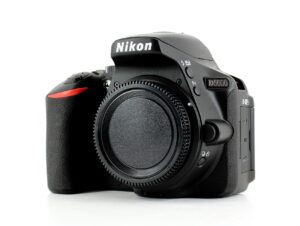 Of the Nikon Cameras that I have tested my favorite was the Nikon D5600.  I loved it, not because of the high specification or the £749 price point, and that is with a very decent quality Nikon 18-140mm lens.  I loved it because it was so beautifully balanced and fitted in my hand so nicely.  That said, this is a camera that is rich in quality features and it is aimed squarely at the serious hobbyist photographer.
This camera's 39-point autofocus system is of real benefit to the new photographer as it is both fast and accurate.  Like many Nikon cameras, the 24.2-megapixel cropped sensor is made by Sony and it produces very high-quality images.  The D5600 offers full HD video at up to 60 frames per second.  This is more than adequate for your YouTube channel.
The camera has a tilt screen and the new SnapBridge system allows you to sync photos to your smart device effortlessly via Bluetooth or the built-in Wi-fi.  For best performance pair this camera with Nikon's DX range of lenses.  If I were in the market for a mid-range crop sensor camera the Nikon D5600 would probably be my choice.
Nikon D7500
To be honest, you would definitely have to shop around to find the Nikon D7500 at under £1000, and that would be for the body only.  However, paired with a decent prime lens the D7500 may be the best camera for video in this price range.
The 51-point auto-focus system on the D7500 is superb and Nikon's Advanced Scene Recognition and Auto Focus Tracking make this a standout performer for video.
The real beauty of these two cameras is that their specifications mean that they will suit the needs of a new photographer well beyond the early learning phase.
What Are The Best Canon Cameras Under £1000?
I won't pretend to be an expert on Canon cameras.  I am not, I have never owned one.  However, as I have stated many times, a camera brand is a personal choice.  Pick a brand and stick with it because all of the major manufacturers make great cameras.
At the equivalent price points to the Nikon models I have talked about above, the entry point on the Canon system is the EOS 250D.  At just £699 the 250D offers a 24.1-megapixel cropped sensor that is reportedly excellent in low light.  The 250D even offers 4K video, a real benefit at this price level.
I think it is fair to say that Canon has moved ahead of Nikon when it comes to video in a DSLR.  If video is really important to you, bear that in mind.  This model also offers Bluetooth and Wi-fi connectivity.
Canon EOS 850D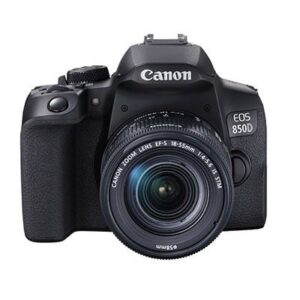 Like the Nikon D7500, the Canon 850D carries some really impressive features for a camera in the sub £1000 range.  The 24.1-megapixel cropped sensor and 45 point autofocus are very similar spec to the equivalent Nikon.   The 850D features a 3.1″ tiltable touch screen and 5-axis stabilization for video.
Once again this model offers both Bluetooth and Wi-fi connectivity.  At this price point, you should be able to buy the body with the Canon EF-S 18-55mm f4-5.6 IS STM Kit Lens.
The Canon 850D is a lot of camera for the money and will serve the enthusiastic amateur photographer well for many years.
Olympus OM-D E-M10 Mark IV
I believe that anyone looking for a camera in the sub-£1000 price bracket should consider Olympus as an alternative to the big two brands.  For a decade or so Olympus has moved away from the full-frame camera market to concentrate on their micro 4/3 format.
The OM-D E-M10 Mark IV offers a 20-megapixel sensor, an electronic viewfinder, 4k video, and 5-axis image stabilization in an ultra-compact body for around £650.  The main disadvantage of the micro 4/3 system is that you are a little more limited in your choice of lenses.  For many new photographers that would be offset by the small and lightweight package.
Conclusions
For a new photographer choosing a camera is a minefield of confusing options.  There really isn't a "best camera" for new photographers, the best advice I can offer is to handle as many different models as possible to get an idea as to what suits you best.  The best camera is the one that you like to pick up and carry with you.  Ignore anyone who tells you that you must have this or that brand.
Advantages of compact cameras
Compact cameras are light, easy to use, and don't require a great deal of knowledge before you can capture great images.  However, what you gain in convenience you lose in versatility and in the ability to expand.  You may also have a great deal of difficulty using off-camera flash with many compact cameras.
The compact camera is discreet and easy to carry wherever you may be.  This makes them ideal for hiking or travel photography.
The Digital SLR
Digital SLRs are bigger and heavier but the interchangeability of the lenses makes them much more versatile.  Typically, the sensor in a digital camera is much bigger than in a compact model.  This is advantageous if you want to print your images as you will be able to print your photographs to bigger sizes.
You will also find a better range of accessories for digital cameras.  Therefore, a digital SLR or mirrorless camera is probably the best camera for a new photographer who wishes to expand beyond the basic skills of photography.
And Finally!
I hope that you have found this article useful.  If you have why not sign up for my mailing list.  This will allow me to keep you up to date with new products and articles as they are released.  You can unsubscribe at any time and I will never sell your data or spam your inbox.